QUIRKY LEADERSHIP
(2013)
Pastors and ministry leaders too often play the comparison game, looking to church leadership rockstars and curtailing idiosyncrasies to be like them. But it's a losing game. Leaders end up trying vainly to lead their churches from a lack of gifts and a place of emptiness.What is the solution? Quirkiness. Leaders need permission to lead not like someone else, but as the best possible version of themselves—embracing idiosyncrasies, personalities, and personal tastes. When church leaders name their quirks, they are free to discover a unique leadership philosophy and find unique missional opportunities. Quirky Leadership raises the bar for ministry—not by jumping through more hoops or focusing on gift deficits but rather by identifying, communicating, and celebrating the individual truths about identities and for ministry environments.
---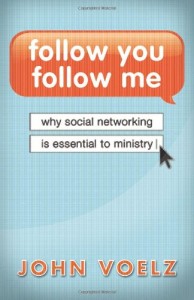 FOLLOW YOU, FOLLOW ME
(2012)
We don't often associate social networking with good things. The conventional wisdom, as it were, is that Twitter, Facebook and the like are engaging and fun, maybe dangerous, and definitely a big, shallow waste of time. When it comes to faith, is there any value? Some point to horror stories of illicit behavior simplified by the connections it creates. Others point to its effectiveness as a tool for networking Christians with prayer chains and referrals. But what is really going on here?
Maybe you have resisted all social networking, you consider tweeting a frivolous fad and your Facebook account is dusty. Maybe you post several times a day. In either case, do you understand the power and depth of this new medium—in community building, spiritual formation, and yes, even evangelism?
---
KING ME
(2010)
The Book of Psalms contains a wonderful collection of songs known as the "Kingly Psalms." The Kingly Psalms inspire people with hope and encourage us in our faith, give us a window to the past and a connection with our brothers and sisters of long ago, and connect the worlds of the First and Second Testaments as we see a people praising a King and longing for the Messiah-Jesus-who has revealed himself to us. This book is a musical and poetic journey. It's a little bit of a history lesson. But more than anything, it's an invitation into the throne room of a living King who has an invitation of His own to hand out.
---
BROKEN RECORD
(2010)
Relationships are like records. Remember those things? Vinyl? Larger than a CD? Some would argue the purest audio recordings are vinyl records. But, they are fragile. Records require special care. you can't toss them around, leave them in the sun, or let them get dusty. Still, they develop hisses, pops, and scratches. It's inevitable. And, because life is what it is, our relationships get hisses, pops, and scratches–it's the nature of the beast. This book is about the records we have saved for and purchased, the ones we have been entrusted with. It's about properly taking care of them and playing them over and over again until they become part of us. Become a relational audiophile. Learn to listen carefully to the music, to appreciate it beyond the initial, most obvious instrumentation. Fall in love with it, maybe all over again.